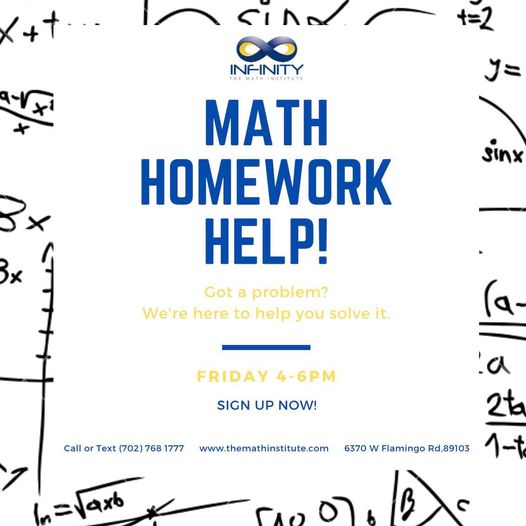 We know how frustrating distance learning is…but we're here to help you! Every Friday from 4pm to 6pm we will be helping students with their assignments, homework or to understand better the lesson they just took in their math class.
Monthly price: $100
Session price: $30
Our Online Sessions work as great as our classroom sessions!
We engage students with contests and dynamic challenges.
One math class (in person or online)
$200/month
Assessment test included 
No contracts
$200 / month
Basic pack
(Small class - Twice/Week)
$36 / Single Session
Small group tutoring
$400 / month
One on One Tutoring
(8 session pack - online & in-person)
$300 / month
Infinity Pack
(Small Class - Unlimited Sessions)
Get In Touch
Location:  6370 W Flamingo Rd
Suite 12, Las Vegas NV 89103
Telephone:  (702) 768-1777
Email:  contact@themathinstitute.com
Hours:
We got your back Hours:
Tutoring Hours:
M-F: 1:00pm - 8:00pm
Sat: 10:00am - 2:00pm